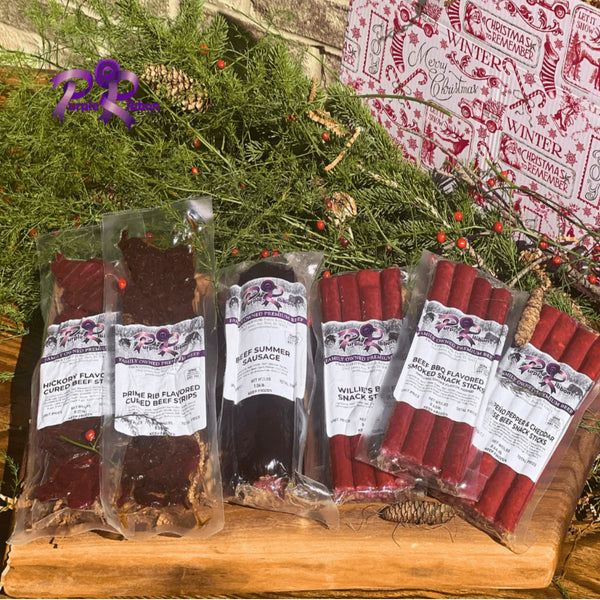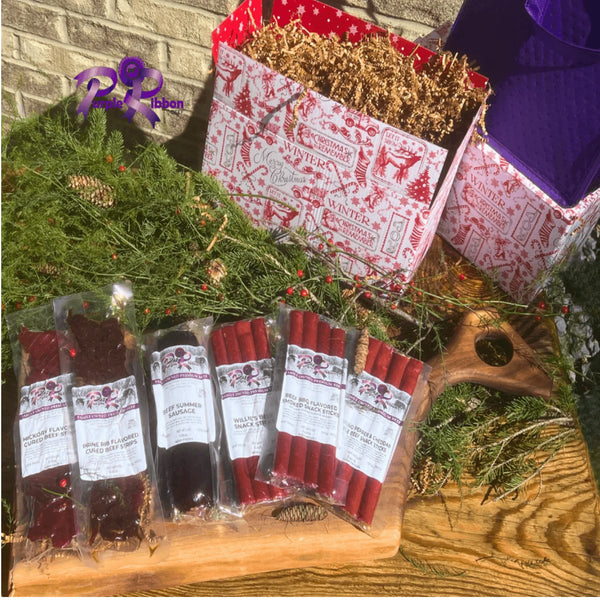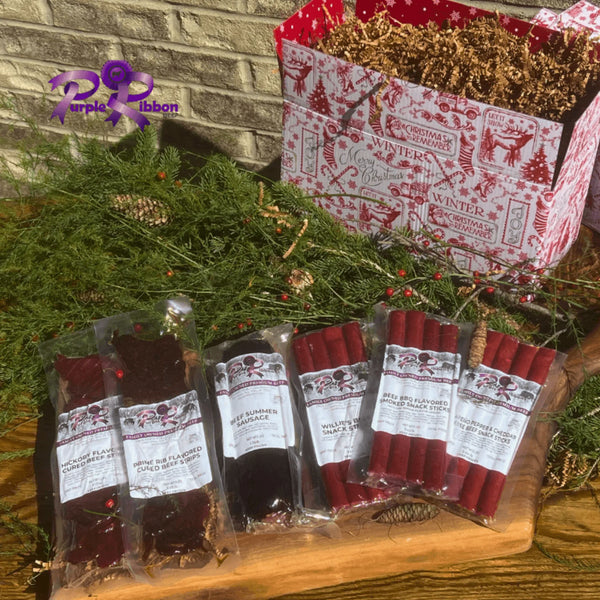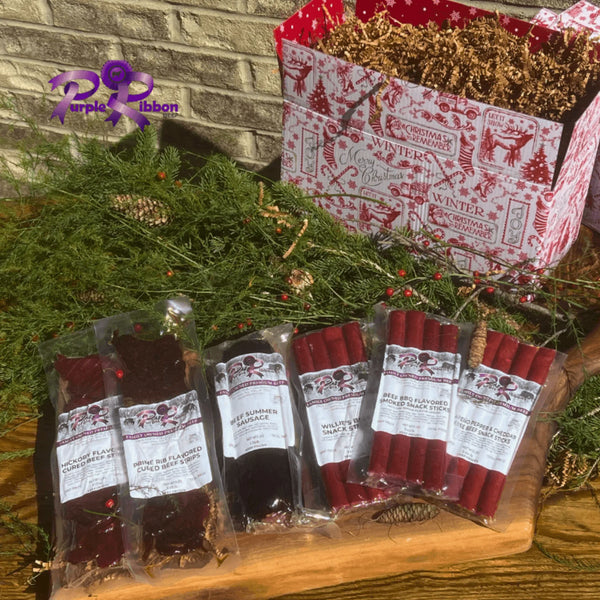 Premium Iowa Meat and Cheese
Beef Snacks Gift Box
Presenting our exquisite Beef Snacks Gift Box! The ultimate gift for customers, colleagues, neighbors, or anyone who loves beef snacks - complete with the finest cured strips, beef summer sausage, and beef sticks. Our selection is carefully curated after sampling countless beef snacks - you can't go wrong! Plus, choose a holiday box or insulated cooler bag to complete your gift, or opt for our cheese add-on for something even bigger.
Our Beef Snacks Gift Box makes gifting special, easy, and delicious.
Need to give to many? Contact US 
No need to worry about the details - let us take care of them. 
Contact us via phone, text, or e-mail and we will customize cards, deliver, or ship!  Call us at 515-571-2758 or Email contact@PurpleRibbonBeef.com.
~Give a local gift, a gift they will love!~
Beef Snacks Gift Box Includes:


1lb Purple Ribbon Beef Summer Sausage

1 pkg Purple Ribbon Beef Hickory Smoked Cured Beef Strips


1 pkg Purple Ribbon Beef Prime Rib Cured Beef Strips

1 pkg  of 4 Purple Ribbon Beef BBQ Beef Snack Sticks 

1 pkg of 4 Purple Ribbon Beef Willies Beef Snack Sticks 


           1 pkg of 4 Purple Ribbon Beef Jalapeno & Cheddar Beef Snack Sticks
            Customized Card

Holiday Box or Insulated Cooler Bag

Shipping within the Midwest or Local Delivery

Add on Cheese Option Includes 

2 pkgs of Iowa made cheese curds

8 oz. Iowa made Cheese Block
*If you have a preference on flavors of cheese please let us know upon ordering
**All items are subject to availability and we reserve the right to substitute products for similar product if needed. 
My family bought some Ribeyes and New York strips last Saturday at the Ames Farmers Market. It was hands down the best steaks we have ever grilled! The marbling was perfect and made for the most tender and flavorful Saturday night dinner for the Father's Day weekend! We will definitely be buying more meat in the future!
Jennifer Sisson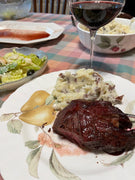 Big Success! Thank you! Delicious!
kay